Youth Water Polo Club For Boys and Girls Ages 9 – 17
We are dedicated to teaching
We teach every student equally regardless of skill level and ability.
Our mission
Our mission is to maximize the potential of our students both as athletes and as people. We endeavor to teach life through the sport of water polo.
Fundamentals of Water POlo
Fundamentals is the entry level class for our Youth Club Water Polo Team. All students must start in this class, even those with prior water polo experience. Classes are held at Splash La Mirada and sign ups are handled through the City of La Mirada. All classes are taught by Shaquatics instructors. To sign up you can call the Splash Front Desk at (562) 902-3191, or you can click on the link below to sign up online.
Youth Club Water Polo
Our Youth Club Water Polo Class is for boys and girls ages 10 – 15 who have been moved up from our Fundamentals of Water Polo Class. In this class we will work on many essential skills including passing, shooting, defensive positioning, 2M, Drives, Pressure Passing, on ball defense, and lanes defense.
Private lessons
Private lessons are available with Coach David. These are great for focused eggbeater, swimming and basic skill work. In private groups of 2 or three more advanced skill work can be addressed.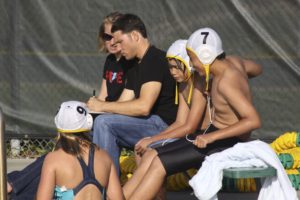 Coach David
Coach David has been the head coach and director of La Mirada Shaquatics since its inception in 1999. David's focus is teaching the often overlooked fundamentals of the sport and using water polo as a tool to teach good character, mental toughness, and team play.
Coach David played high school water polo at Sunny Hills where he was a North Orange County All-Star, All-League, and All-CIF member of the 1993 Division 2 Finalist Team. He played college water polo at Claremont McKenna where he was a two time captain, an All-American selection, and recipient of the Scholar Athlete Award. He also played a year of professional water polo in France while he studied abroad in Strasbourg.
Coach Brittany
Coach Brittany has been with Shaquatics for over ten years and is the director of our Water Polo video series on YouTube. These videos have served students, coaches, and parents who want to learn more about the game and advance their skills. At over a million views we are one of the main water polo tutorials on YouTube. Just click here to check out our videos and subscribe to our channel.
Coach Brittany played high school water polo at Sunny Hills where she was Rookie of the Year, two time team captain, MVP, a regional All-Star, All-League, All-CIF, and the Scholar Athlete of the Year for Sunny Hills in 2009.
Splash La Mirada
13806 La Mirada Blvd.
La Mirada, CA 90638